As of Update 1.7.4, this scroll has been replaced by the Scroll of Enchantment.
Scroll of Weapon Upgrade
Scroll label is randomized each game

Properties

Type
Inventory
Function
Enchants & upgrades weapons
Duration
Forever
Damage
None
Affects
Melee weapons & the Boomerang only
Reuseable
no
Stackable
yes
Breakable
yes (burnable)

Prices

Buy
cannot be bought
Identified sell
15 gold
Unidentified sell
15 gold
The Scroll of Weapon Upgrade is an inventory scroll.
Its class name in save files is "com.​watabou.​pixeldungeon.​items.​scrolls.​SrcollOfWeaponUpgrade".
Description
| | | |
| --- | --- | --- |
| | | |
| | Scroll of Weapon Upgrade | |
| | This scroll will upgrade a melee[sic] weapon, improving its quality. In contrast to a regular Scroll of Upgrade, this specialized version will never destroy an enchantment on a weapon. On the contrary, it is able to imbue an unenchanted weapon with a random enchantment. | |
| | | |
Obtaining
The Scroll of Weapon Upgrade cannot be bought from the Shop.
The scroll cannot be obtained after Update 1.7.4.
Previously, however, the Scroll of Weapon Upgrade could only be obtained by dropping, or throwing, a Scroll of Upgrade into a Well of Transmutation.
When read
Safely upgrades a melee weapon, or the Boomerang (but not the other missile weapons, or wands), whilst also keeping the already-present enchantment, without any risk of losing it (in contrary to Scroll of Upgrade/Scroll of Enchantment), or gaining a random enchantment (if it's not already enchanted).
Enchantment probabilities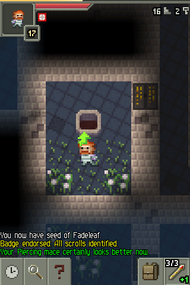 For melee weapons:
When unstable procs on melee weapons:
For boomerang:
When unstable procs on boomerang:
Note: The boomerang cannot gain the Piercing, or Wild, enchantments.
History
Update
Change
1.7.4
Changed: Scrolls of Enchantment REPLACES Scrolls of Weapon Upgrade

(REMOVED from the game)