Scroll of Enchantment
Scroll label is randomized each game

Properties

Type
Inventory
Function
Enchants melee weapons, the Boomerang, & inscribes armor; Repairs degraded/broken items
Duration
Until the weapon/armor is upgraded; until the item degrades/breaks again
Damage
None
Affects
Enchants Melee weapons, the Boomerang, & Armor only; Repairs any degraded/broken item
Reuseable
no
Stackable
yes
Breakable
yes (burnable)

Prices

Buy
cannot be bought
Identified sell
15 gold
Unidentified sell
15 gold
The Scroll of Enchantment is an inventory scroll.
Its class name in save files is "com.​watabou.​pixeldungeon.​items.​scrolls.​SrcollOfEnchantment".
Description
| | | |
| --- | --- | --- |
| | | |
| | Scroll of Enchantment | |
| | This scroll is able to imbue a weapon or an armor with a random enchantment, granting it a special power. | |
| | | |
Obtaining
The Scroll of Enchantment cannot be bought from the Shop.
The scroll of Enchantment has a small chance of appearing at normal depths. The Scroll of Enchantment can also be obtained by dropping, or throwing, a Scroll of Upgrade into a Well of Transmutation.
When read
A melee weapon, armor, or the Boomerang (but not other missile weapons, or wands), will gain a random enchantment/glyph.
Any degraded/broken item will be repaired.
Note: This scroll does not give an upgrade.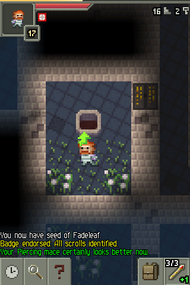 Enchantment probabilities
See:
Main article: Enchantment Probabilities
Tips
Since Enchantment scrolls are the most prevalent of the 3 Repair items, it is advised to use them for when repairs are needed, saving Weightstones & Upgrade scrolls for their more important original purpose.
History